It's time to change the way we talk about failure in the nonprofit sector
and to acknowledge the need to be daring.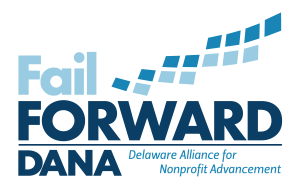 DANA's Fail Forward Event for Nonprofit and Philanthropy leaders considers failure as a condition of innovation. Errors are built-in learning labs for creating opportunity.
Registrants will participate in two sessions – with time for networking, gameplay, refreshments, and idea sharing throughout. Camp Arrowhead is a beautiful property located on Rehoboth Bay, with a rustic outdoor environment. Participants will need to walk on uneven ground to reach the Wright Pavilion, so casual attire and closed-toe shoes are strongly recommended.
Session One:
"F'ing Up" – having fun with the F word
Julia Byren and Njideka Wiggins in a mini workshop designed to help you build a more positive relationship with failing.
Session Two:
Improvisational Leadership: Yes Every Gift, Face Every Fear, Calm Every Chaos
Mike Eppehimer will lead participants through a practice using
techniques to incorporate improvisational leadership into their personal
leadership work as well as the experiences of the teams they support.
Generously Underwritten By